When painting murals as a business, it's important to price your work profitably. Some businesses have preset pricing information. In general, painting murals does not. I went through a couple of sites that list mural painters and could not find one who quoted a price without first visiting the job site.
Books on Painting Murals as a Business
How to Start a Faux Painting or Mural Business: A Guide to Making Money in the Decorative Arts
by Rebecca Pittman
Paperback: 208 pages
Rebecca Pittman has been a professional muralist and faux painter for nearly 25 years. She lives in Fort Collins, Colorado.
Want to start a business painting murals? This is the complete how-to guide for turning faux, mural, and decorative painting skills into a viable, home-based career! Covering everything from the fundamentals of buying supplies to coping with the growing pains of a successful business, this essential sourcebook provides a wealth of tested tips and techniques on such crucial topics as getting referrals, buying insurance, building a portfolio, dealing with supply stores, evaluating job sites, negotiating prices, interviewing clients, and much more!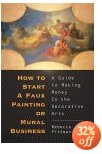 "Absolutely Terrific! This is the book I had been looking for, to start my own faux/mural business! It answered many of my questions and left me with a confident, can-do attitude!! I had already learned much of the basics of starting a small business, but this was great in that it focused on the business of faux, and murals too. She explained about making samples, went over the whole system of bidding on the job, having the client interview, scheduling, advertising, pricing, referrals, etc., gave some great hints to keep organized, even added a touch of motivational encouragement! Including sample contracts and forms at the back of the book, as well as giving the reader the permission to photocopy them makes this a top-notch business tool!" ~ Amazon reviewer
---
Professional Painted Finishes by Ina Brosseau Marx, Allen Marx, Robert Marx
Hardcover: 282 pages
This volume shows the real material that inspired different faux finishes next to the excellent painted imitations. After extensive coverage of all aspects of getting started (tools and materials, preparation, safety concerns, and design and color considerations), and of working with glazes, there are dozens of detailed recipes for various marble and graining effects.
The final chapter, "Professional Practice," explains how to set up your own decorative-painting business, including assembling a portfolio, identifying and reaching your market, financial planning, calculating rates and expenses, preparing samples, organizing the workspace, and working with clients. You'll even find a prototype contract and a checklist of supplies to bring on the job. Those who want to produce spectacular faux-finish results will learn a lot from Professional Painted Finishes. click for more details
Search Google for "painting murals" or "mural business"