Grants for Crafts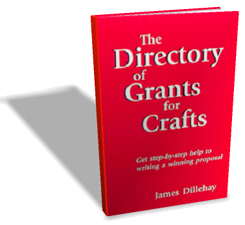 Directory of Grants for Crafts &
How to Write a Winning Proposal
by James Dillehay
As recommended on HGTV's The Carol Duvall Show
This book shows you how to get your share of millions in grant money from the major foundations given to individual craft artists every year!
View Table of Contents
Shows you how to win grant money for your craft!

Discover the secrets to writing a winning proposal!

Find hundreds of local sources of funding for craft grants!

Speed up getting grants through the Internet!

Learn about Government Grant awards given to crafts people just like you!

Get over 1,000 listings and contacts of foundations, government grant programs, public art programs, artist-in-residency, arts agencies, and much more!
"The author gives successful proposal writing tips and lists of over 1,000 foundation, corporate and government grant givers....Vital knowledge for artists serious about obtaining grants for their work."
~ The Cloth Doll Magazine
"James Dillehay has written another winner. The Directory of Grants for Crafts shows how the grant application process works and how to match a grant project with a foundation's giving criteria." ~ The Crafts Fair Guide
About the author
James Dillehay is a professional craft artist and author of seven books. His articles have helped readers of major magazines like Family Circle, Working Mothers, Better Homes & Gardens, The Crafts Report, and Sunshine Artist. He is an advisory board member to the National Craft Association and was featured on The Carol Duvall Show on HGTV.