Selling Crafts
The Basic Guide to Selling Crafts
by James Dillehay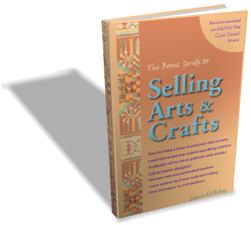 Selling crafts is made easier with these profit-making secrets used by professional craft business owners. Learn how you can earn full-time or part-time cash selling high-demand your own art and craft items. Here, in one beautiful 189 page book is everything you'll need to know to start your own business; sell at craft fairs and trade shows; sell crafts to stores, interior designers, and corporations; pricing crafts, extra income craft business ideas and more! view Table of Contents
Well organized and easily read, this exciting guide is illustrated with charts, graphs, tables and completely indexed for easy reference! Big 6 x 9 perfect bound book suitable for any library. This guide was used as the craft business training manual by the former Association of Creative Craft Industries (ACCI) in their Professional Crafters course. It was recommended on HGTV's The Carol Duvall Show.
Learn which crafts sell and where to sell homemade crafts

How to profit selling crafts at home parties

Learn success tips for selling at craft fairs and which shows are best for you

Master the art of selling crafts to stores and starting your own craft retail business

Find out how to get interior designers and corporations to buy your work

Get step-by-step help with doing trade shows

Discover overlooked markets for craft business products

Learn profitable ways to use promotional material

Find out what to do when your work isn't selling

Get spin-off craft business ideas for extra income

Access the appendix lists of over 250 art and craft resources
Written by James Dillehay, craft business artisan, author of nine books and advisory board member to the National Craft Association and ArtisanStreet.com.
12 more recommended reasons to order this craft business guide
"The blueprint for success in the crafts industry." -- Craftmaster News
"Covers everything... I recommend it highly." -- Show Business
"An invaluable, practical business and art blend." -- The Bookwatch
"A useful compilation of 'insider' information." -- Woodshop News
"This book will pay for itself many times over if you want to make money with your work." -- Glass Crafters
"A comprehensive, user-friendly text on all aspects of starting and growing a craft business; we highly recommend Selling Arts & Crafts." -- The Crafts Fair Guide
"Comprehensive is the word for this book which covers everything." -- Aardvark Adventures
"Helpful to anyone contemplating any crafts business." -- Countryside
"All the perplexing questions and many, many more are answered in detail... Well worth it." -- Prime Time
"Ideas and sound business advice on every page." -- Arts & Crafts Show Guide
"Like eating beef stew after the hors d'oeuvres -- more meat, more filling, more down-to-earth." -- Stained Glass
"For artists just starting out as well as those who are more experienced." -- Ceramics Monthly
"I had a sporadic retail craft business with which I was feeling burnt out. After reading James' book, my business took on a new life. I changed my product slightly and the response was remarkable! My first order was triple what I had planned for, and other orders are pouring in! I continue to look to James for inspiration and I love his approach. Because of the techniques I learned from him, my business is thriving, and I am energized to grow it even more."
Cathy Marble
Chamisa Hill Design