What is the best site to sell crafts online?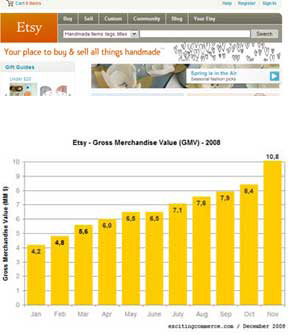 Different crafts sell better in different markets. Try several craft selling sites and measure the results. You may find you can profit more if you sell crafts online at several places at the same time. Let's start by looking at the top websites to sell your crafts on line.
Ebay.com attracts huge crowds daily. As of 2007, ebay had over 230 million registered users worldwide. According to one analysis of eBay sales, a craft item sells every 9 seconds.
Unlike ebay where you can buy or sell almost anything, Etsy.com lets visitors specifically buy or sell crafts online with over 200,000 crafters showing over 2 million craft items.
Wholesalecrafts.com is shopped by store owners; here's a place to sell handmade crafts online if you place to sell wholesale to shops.
Artfulhome.com helps artists sell crafts online to the public and to interior designers.
Depending on your budget and your production capacity, consider listing your items on several sites and testing the results over a month's time.
Finding where to sell crafts online is important, but the question you really should be asking is....
"How can I gain an advantage with so many other crafts selling online?"
Here's a tip that will give you an edge when you go to sell your crafts over the internet.
No matter what the product is, people who search online must all do the same thing to find what they are seeking.
People type in text describing what they want into a search engine.
Part of the secret to getting your web pages to rank high and found by the search engines is including the same search word or phrases on your pages that people use in everyday searches.
Including the right keywords in the various areas of what makes up a webpage is part of the formula for getting high rankings in search results.
For example, in a recent month, there were an average of 16 searches per day for the phrase "handmade gifts."
But during that same period, there were 68 searches per day for the phrase, "hand made gifts."
What a difference in how people search! 16 searches per day for "handmade gifts" and 64 searches per day for "hand made gifts." Can you see how you could be losing money when trying to sell crafts online by not knowing and using the right keywords?
This is one example of competitive advantages for selling crafts online explored in the book, "Sell Your Crafts Online."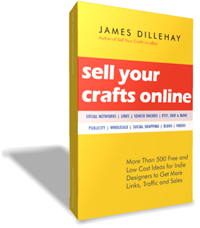 "I am reading SELL CRAFTS ONLINE for the second time and its worth 3 times what i paid for it. Your books are the blueprint to selling online and anyone who has never sold online needs these, along with those who just want to increase exposure and sales opportunities."
John & Svitlana Malinina
Buy Kindle Edition - only $4.99 or Buy Paperback on Amazon
As the internet's role in marketing crafts grows, another question people often ask is...."Can I sell craft items made with designs I find online and from magazines and books?"
Watch the next video for the answer.
Craft Business Video 13 answers the frequently asked question: "What is the best website to sell crafts online?" from the Series: "The 10 Most Asked Questions About Selling Crafts and the 10 Questions You Should Be Asking" Watch the Entire Video Series on Selling Crafts
---
Crafts Business Video 14 answers the question you should be asking: "How can I gain an advantage with so many crafts for sale on line?" Video 14 of 20 in the Series: